Prof. Dr. Petra Lange-Berndt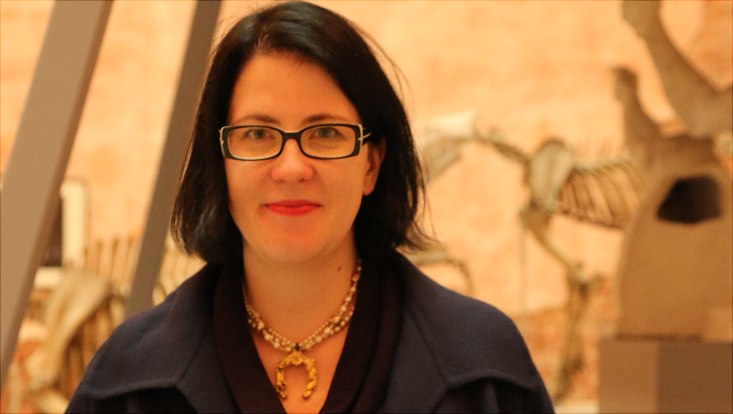 Photo: Olaf Pascheit
Curriculum
Petra Lange-Berndt is Chair of Modern and Contemporary Art at the Department of Art History at the Universität Hamburg; she previously taught for eight years, first as a lecturer and then as a reader, at the Department of History of Art, University College London. She has written on animals and taxidermy (Animal Art. Präparierte Tierkörper in der Kunst, 1850–2000, Silke Schreiber 2009), psychedelia and intermedia (Sigmar Polke: We Petty Bourgeois! Comrades and Contemporaries. The 1970s, Walther König 2009 / 2011), questions of material (Materiality: Documents of Contemporary Art, MIT Press, 2015) and conceptual art (Korrespondenz. Briefe / Letters 1967–1975, ten volumes, Walther König 2015). Petra Lange-Berndt has also curated a number of exhibitions: Sigmar Polke: Wir Kleinbürger! Zeitgenossen und Zeitgenossinnen. Die 1970er Jahre at Hamburger Kunsthalle (2009–2010, with Dietmar Rübel and Dorothee Böhm), a show in three parts, which was named exhibition of the year by the International Association of Art Critics AICA; Mark Dion: The Academy of Things at Art Academy, Albertinum and Green Vault, Dresden (2014–2015, with Dietmar Rübel, catalogue with Walther König); Hanne Darboven: Correspondences at Hamburger Bahnhof, Berlin (2017, with Gabriele Knapstein and Dietmar Rübel) and Singular / Plural: Collaborations in the Post-Pop-Polit-Arena, Kunsthalle Düsseldorf (2017, with Max Schulze, Dietmar Rübel) as well as the series Inversions at the Warburg-Haus, Hamburg (#1 Lucy Raven, #2 Georges Adéagbo, with Rebekka Seubert). Petra Lange-Berndt is a member of the scientific advisory board of the Museum für Naturkunde, Berlin. For more information see http://petralangeberndt.de/en/

Publications (selection)
Books
Materiality. Documents of Contemporary Art, Cambridge Mass.: MIT Press, 2015, 240 pages (2nd print run 2017)
Mark Dion: The Academy of Things / Die Akademie der Dinge, exh.-cat. Art Academy, Albertinum and Grünes Gewölbe Dresden, Cologne: Verlag der Buchhandlung Walther König 2015, (co-edited with Dietmar Rübel)
Animal Art. Präparierte Tierkörper in der Kunst, 1850–2000, Munich: Verlag Silke Schreiber 2009
Articles
'Evolution détournée. Asger Jorn's Political Menagerie', in: Exh.-cat. Asger Jorn. Without Boundaries, Deichtorhallen Hamburg 2018, pp. 94–109.
'A Parasitic Craft. Taxidermy in the Art of Tessa Farmer', in: The Journal of Modern Craft 7:3 (2014), pp. 267–284.
'Von der Gestaltung untoter Körper. Techniken zur Animation des Leblosen in Präparationsanleitungen um 1900', in: Peter Geimer (ed.): UnTot. Existenzen zwischen Leben und Leblosigkeit, Berlin: Kadmos 2014, pp. 83–104.
---
Reserach project: Forming Collectives: Colonies, Communes and Squats in Contemporary Art
The word ecology refers to the ancient Greek term oikos – the house or household: When processes of nature as well as the relation of humans to other animals or landscapes are investigated, the question of how we inhabit this earth is also up for discussion. My current research project is more specifically concerned with various countercultures and alternative ways of life since the 1970s. In this context, I am interested in contemporary art projects that examine colonies, cooperatives, or communities. The focus is on posthuman relational networks and their historical predecessors - in other words, living in and with nature.
---
Research results: Forming Collectives: Colonies, Communes and Squats in Contemporary Art
My current research focuses on art projects that have been testing alternative collective living situations in and with nature since the 1970s, that is at the time of the dawn of neoliberalism. During my fellowship I investigated two areas:
1. Treehugging: Artists in modern and contemporary can be spotted hugging trees and these actions have numerous historical antecedents. During the Lebensreform movement, a fundamental critique of industrialization, urbanization and corresponding capitalist structures emerged in German-speaking countries from the mid-19th century onwards. Here, references to an assumed 'state of nature' play a central role and through this reference, the connection between 'force' and 'nature' can be problematized for the outlined context. The Lebensreform and its difficult legacy in National Socialism has left diverse echoes within contemporary, ecologically motivated art. From the 1960s onwards, artists turned away from imaginary trees and encountered plants in the sphere of the everyday in order to address alternative entanglements between humans and nature. In the art projects under consideration, living plants did not represent the other or binary double of subject, self, embodiment or consciousness. Instead, trees escape the grasp and power plays of humans in actions and performances by Guiseppe Penone or Gordon Matta-Clark. References to the Indian Chipko movement help to problematize these artistic strategies. In all the interactions described, people do not make autonomous or free decisions, but are integrated into ecologies, networks in which unpredictable or unintended effects can occur. Reflections on an (eco-)feminist critique and corresponding environmental art in works by Ana Mendieta, Petr Štembera and the duo Beth Stephens and Annie Sprinkle conclude these reflections.
2. Lebensreform: In addition, I have dealt in detail with the Lebensreform movement and above all with an exhibition by Harald Szeemann, which in 1978–1980 was dedicated to Monte Verità. Mountain of Truth. The founders of Monte Verità understood nature and human beings as parts of a co-evolution. The aim was not to protect flora and fauna as ahistorical quantities, but to harmonize humans and a constantly changing environment in order to be able to lead a 'free life. As a level of comparison, I consider the commune Himmelhof in the Viennese municipality of Ober Sankt Veit, run by the painter Wilhelm Diefenbach from 1897 to 1899, as well as a monumental work created together with the painter and illustrator Hugo Höppener, called Fidus, that could be described as painted manifesto of group identity – the 68-metre-long silhouette frieze Per aspera ad astra. Diefenbach mixed religiosity with a belief in evolutionary processes, typical of the time, and propagated a harmonious image of nature. Per aspera ad astra visualizes a future, utopian as well as cultic place in which bodies are given the status of works of art. Harald Szeemann, on the other hand, emphasized as the central thesis of his exhibition 'that the ideal society is a utopia (...).' Reflections on völkische, nationalist, racist and anti-Semitic positions within the Lebensreform movement as well as the positioning of the historical Monte Verità in this context and in Szeemann's reception form the conclusion of these discussions.