Prof. Dr. Spyros Papapetros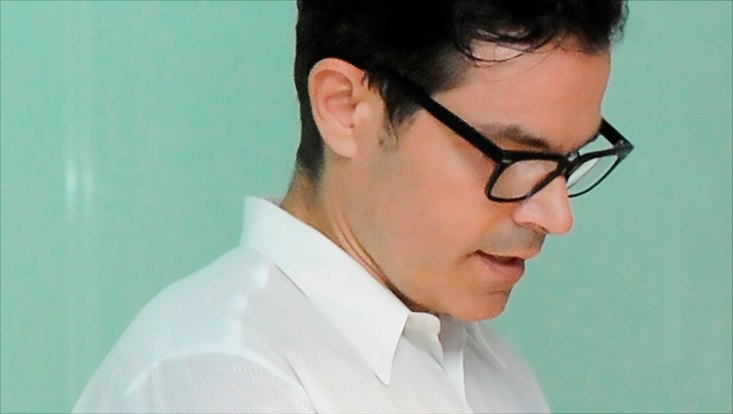 Curriculum

Spyros Papapetros is Associate Professor of Art and Architectural Theory and Historiography at the School of Architecture and an associated faculty member of the Department of Art and Archaeology at Princeton University, where he is also an executive committee member of the Program in European Cultural Studies and the Program in Media and Modernity.  His work focuses on the intersections between architecture and the visual arts in terms of both historiography and practice, as well as, the relationships between architecture, cultural anthropology, psychoanalysis, the history of psychological aesthetics, and more recently the history of the life sciences in the second half of the nineteenth and first half of the twentieth centuries. 
Publications (Selection)
Books 
Spyros Papapetros, On the Animation of the Inorganic: Art, Architecture, and the Extension of Life (Chicago: The University of Chicago Press, 2012).
Retracing the Expanded Field: Encounters between Art and Architecture edited by Spyros Papapetros and Julian Rose (Cambridge, Mass.: The MIT Press, 2014).
Space as Membrane by Siegfried Ebeling (English translation of Der Raum als Membran, 1926), edited and with an afterword by Spyros Papapetros (London: Architectural Association, 2010).
Book Chapters
"'Against Nature': Warburg, and Regressive Evolution" in Warburg und die Natur: Epistemik, Ästhetik, Kulturtheorie (Naturbilder 6) edited by Frank Fehrenbach and Cornelia Zumbusch, (Berlin: De Gruyter, 2019), 149-216.
"The Tectonics of the Soul: Animist Survivals in Nineteenth-Century Architecture and Ornamentation" in Nineteenth-Century Architecture edited by Martin Bressani and Christina Contandriopoulos Volume III of The Companions to the History of Architecture edited by Harry Francis Mallgrave (London: Wiley-Blackwell, 2017), 452-489.
"Darwins Hund und der Sonnenschirm: Kulturelle Reaktionen auf den Animismus" in Nach dem Animismus edited by Irene Albers and Anselm Franke (Berlin: Kadmos Kulturverlag, 2016), 33-44.
"Denkraum als Ornament: Semper, Warburg, und kosmischer Schmuck" in Warburgs Denkraum: Formen, Motive, Materialien, edited by Martin Treml, Sabine Flach and Pablo Schneider (Munich: Fink-Trajekte, 2014), 91-119.
Entries on "Animism" and "Aby Warburg", Encyclopedia of Aesthetics 2nd revised edition, Michael Kelly editor in chief (New York-London: Oxford University Press, 2014), I: 91-96 and VI: 261-66.
"On the Biology of the Inorganic: Crystallography and Discourses of Latent Life in the Art and Architecture of the Early Twentieth-Century" in Biocentrism and the Avant-Garde, edited by Oliver Botar and Isabel Wünsche (London: Ashgate, March 2011), 77-106.
"'Ohne Füße und Hände': Historiographische Bemerkungen über die anorganische Bewegung der Schlangen von Philo von Byblos bis Aby Warburg" in Schlangenritual: Der Transfer der Wissenformen vom Hopi Tsutikive zu Aby Warburgs Kreuzlinger Vortrag  edited by Cora Bender, Thomas Hensel, and Erhard Schuettpelz (Berlin: Akademie Verlag, 2007), 217-267.
---
Research project: Dynamism and participation in art and design during the preanimist condition
What if force could not be controlled, measured, or located in a fixed spatial direction? And what if humanity once lived in a world of such indescribable forces, where power and agency were not yet appropriated by singular objects, be they artifacts, plants, animals, or human persons? This radical ontological and epistemological hypothesis constitutes the main premise of what Wilhelm Wundt, following the studies of R. R. Marett, called the "pre-animistic theory"—a hypothetical state that could not be experienced in extant indigenous societies, yet was intuitively rediscovered in ethnographic circles around 1900 as a necessary precondition for the origin of animist religion, three decades after animism itself had been resuscitated in Edward Tylor's comparative anthropological compendium.
Having published a monograph on the rippling effects of the reintroduction of animism and the scientific establishment of agency in inorganic matter in the art and architectural historiography and practice of turn-of-the-century Europe and having recently completed a second monograph on the global trajectory of artifacts of bodily adornment as ciphers of modernity's "directional" understanding of physical and geopolitical forces, I think of my participation in this research cluster on the imaginaries of force, as an opportunity to take a step back and compile a "retroactive prehistory" of animism in pre-animism. Preanimism assumes the form of an epistemological regression projecting a more indiscriminate state of being, when subjects, objects, and the spirits that enliven them had not yet been differentiated.
If animist theories appealed to turn-of-the-century sociologists, like Durkheim, for the alternative possibilities they reflected apropos the redistribution of agency and power in collective formations which could escape the overvaluation of objects in commodity fetishism, then the preanimist hypothesis opened up a host of even more radical social and political scenarios, most potently projected in theories of "participation" in the sociological models proposed by Lucien Lévy-Bruhl during the first decades of the twentieth century. In a society preceding "individualization", nobody owns, controls, or autonomously embodies any force. Property does not exist. Possession is temporary and unpredictable; it leads to an ecstatic dislocation of the subject in magical practices rather than an affirmation of its position in the social arena bolstered by economic security. Everything and everyone participates in a continuum of forces— preaninism's or animatism's "dynamist" field network—which lacks a single spatial and/or temporal orientation.
---
Research results: Preanimist states in Magic Architecture and Pre/Architecture
While evading temporal divisions, the primary characteristic of such prehistoric dynamism is its "pastness", the non-currency of its existence, which makes it comparable to the condition of art after Hegel. As Lévy-Bruhl explains, preanimism can only survive in the realm of myth and in art, whose function is to represent the anterior condition of "mystical symbiosis" and participation in collective practices, such as magical rituals, which did not invoke personified spirits or demons but a constellation of generalized forces hailing the "universality of life." It is then no accident that while banned from modern life, preanimism experienced an afterlife in Surrealist writing and artistic practices during the 1930s and '40s. My departure point for this study is an unpublished book manuscript titled Magic Architecture written by the Austrian U.S. émigré architect, painter, and sculptor Frederik Kiesler during the end of WWII, in which the surrealist-affiliated author transcribes long excerpts from the ethno-sociology of Lévy-Bruhl (read in German translation) in order to advance his own theory of participation in the interrelated global histories of art, architecture, and design. The forms of spatial organization that (pre)exist in indigenous communities, yet remained unimaginable by the post preanimist (and resolutely "functionalist") spirit of modern architectural design. The first publication of Kielser's Magic Architecture edited by Spyros Papapetros and Gerd Zillner is forthcoming by The MIT Press. Finally, my study of the impact of theories of preanimism on art and architecture also informs a personal book project titled Pre/Architecture, which will appear in the Critical Spatial Practice book series edited by Nikolaus Hirsch and published by Sternberg Press.