Lecture series
»DARK FORCES. REFLECTIONS  ON A DIFFUSE PHENOMENON IN LITERATURE AND THE ARTS«
Organization: Adrian Renner, Philipp Müller
Date: Winter term 2020/2021, Thursdays 4:00-6:00 pm
Venue: Zoom
Registration for students via UHH/STiNe. / For interested guests by e-mail to adrian.renner"AT"uni-hamburg.de.
---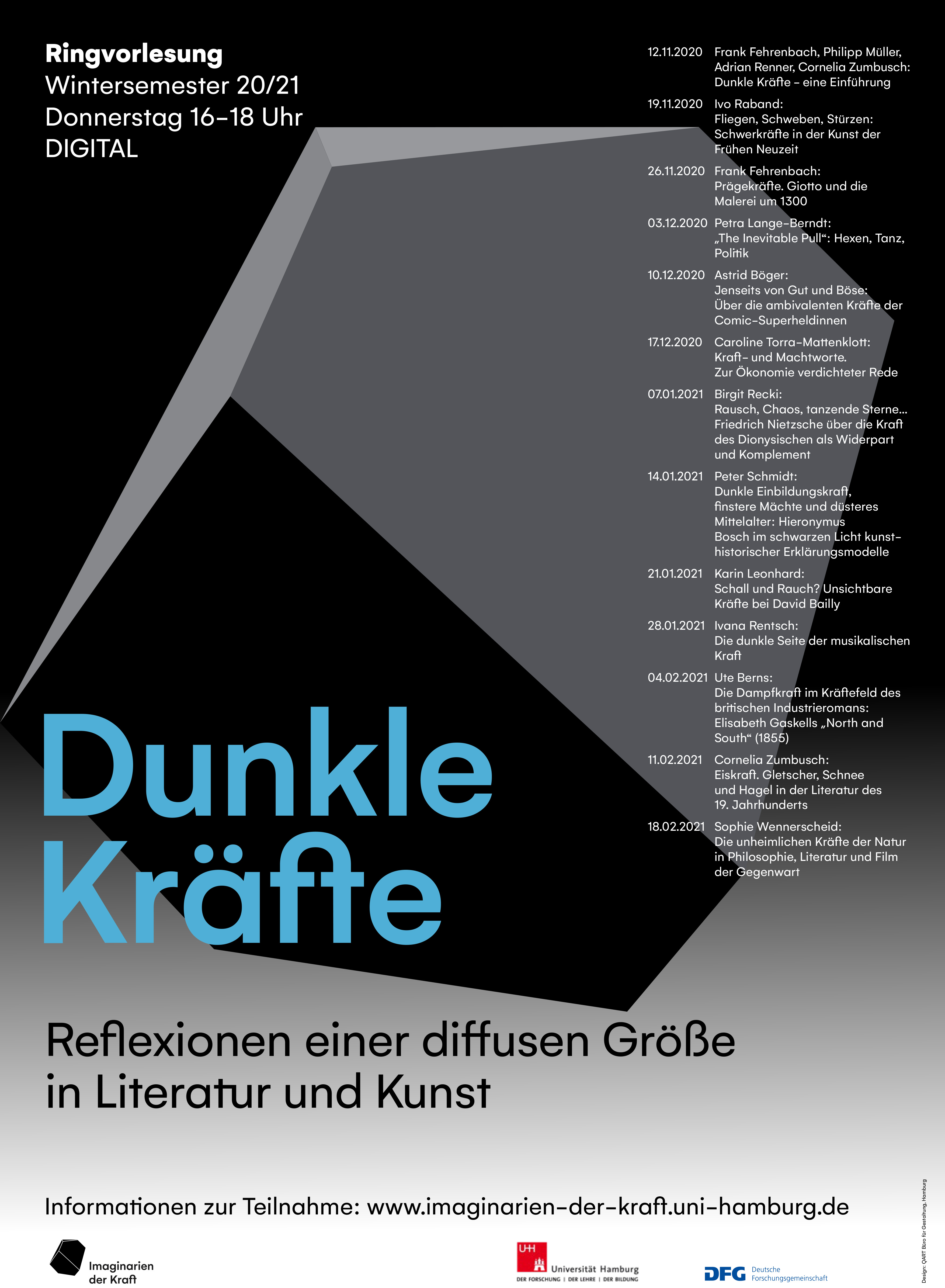 Description
Forces are notoriously difficult phenomena to fix. From forces of attraction and repulsion, laws of motion and gravitation, to processes of generation, formation, selection, and inheritance, to questions of energy conservation and generation, forces infuse the entire world from Early Antique myths to modern natural science. The mutual influence of the forces of nature(s) and humans belongs - from models of balance to scenarios of loss of control or the invocation of magical powers - to the basic inventory of European cultural history. In this context, forces and their manifold effects were and are often attributed a dark, because inexplicable quality. This idea of an elusive "qualitas occulta" at the bottom of natural processes is continued until today's talk in physics of black holes and dark matter.
The more than just metaphorical darkness of forces points directly to the realm of art. In the arts, forces stand for the ideal generation and material production of works of art, to which in turn effects such as attraction, repulsion, fascination, pleasure, terror, or disgust are attributed. Precisely because forces usually only become perceptible in their effect on others and others, questions of representation, be it narrativization or visualization, are ignited by them - both in the sciences and in the field of art itself. Forces refer to the capacity to act and the interrelationships of effects, whose representation and modeling run between knowledge and aesthetics, between concept, metaphor, and image.
The lecture series undertakes to illuminate the darkness of forces from an interdisciplinary perspective. The double relation of knowledge and aesthetics in physics, biology, art history and literary studies is discussed as a question of the representation, modeling and visualization of forces on the one hand and the process of (re)presentation, its medial implications and repercussions on the understanding of force on the other hand.
Literature:
- Frank Fehrenbach, Robert Felfe und Karin Leonhard (Hg.): Kraft, Intensität, Energie: Zur Dynamik der Kunst, Berlin/Boston 2018.
- Thomas Brandstetter (ed.): Zeichen der Kraft: Wissensformationen 1800-1900, Berlin 2008.
- Franca Buss und Philipp Müller (eds.): Hin- und Wegsehen. Formen und Kräfte von Gewaltbildern, Berlin/Boston 2020.
- Christoph Menke: Die Kraft der Kunst, Frankfurt am Main 2013.
Programme
| | |
| --- | --- |
| 12.11.2020 | Frank Fehrenbach, Philipp Müller, Adrian Renner, Cornelia Zumbusch: Dunkle Kräfte - eine Einführung |
| 19.11.2020 | Ivo Raband: Fliegen, Schweben, Stürzen: Schwerkräfte in der Kunst der Frühen Neuzeit |
| 26.11.2020 | Frank Fehrenbach: Prägekräfte. Giotto und die Malerei um 1300 |
| 03.12.2020 | Petra Lange Berndt: "The Inevitable Pull": Hexen, Tanz, Politik |
| 10.12.2020 | Astrid Böger: Jenseits von Gut und Böse: Über die ambivalenten Kräfte der Comic-Superheldinnen |
| 17.12.2020 | Caroline Torra-Mattenklott: Kraft- und Machtworte. Zur Ökonomie verdichteter Rede |
| 07.01.2021 | Birgit Recki: Rausch, Chaos, tanzende Sterne… Friedrich Nietzsche über die Kraft des Dionysischen als Widerpart und Komplement |
| 14.01.2021 | Peter Schmidt: Dunkle Einbildungskraft, finstere Mächte und düsteres Mittelalter: Hieronymus Bosch im schwarzen Licht kunsthistorischer Erklärungsmodelle |
| 21.01.2021 | Karin Leonhard: Schall und Rauch? Unsichtbare Kräfte bei David Bailly |
| 28.01.2021 | Ivana Rentsch: Die dunkle Seite der musikalischen Kraft |
| 04.02.2021 | Ute Berns: "Die Dampfkraft im Kräftefeld des britischen Industrieromans: Elisabeth Gaskell's "North and South" (1855) |
| 11.02.2021 | Cornelia Zumbusch: Eiskraft. Gletscher, Schnee und Hagel in der Literatur des 19. Jahrhunderts |
| 18.02.2021 | Sophie Wennerscheid: Die unheimlichen Kräfte der Natur in Philosophie, Literatur und Film der Gegenwart |
Selected video recordings (in German language)
Prof. Dr. Sophie Wennerscheid: Die unheimlichen Kräfte der Natur in Philosophie, Literatur und Film der Gegenwart (Video recording, February 18, 2021)
---
Prof. Dr. Cornelia Zumbusch: Eiskräfte. Gletscher, Schnee und Hagel in der Literatur des 19. Jahrhunderts (Video recording, February 11, 2021)
---
Prof. Dr. Ivana Rentsch: Die dunkle Seite der musikalischen Kraft ( Video recording, January 28, 2021)
---
Prof. Dr. Birgit Recki: Rausch, Chaos, tanzende Sterne... Friedrich Nietzsche über die Kraft des Dionysischen als Widerpart und Komplement (Video recording, January 7, 2021)
---
Prof. Dr. Caroline Torra-Mattenklott: Kraft- und Machtworte. Zur Ökonomie verdichteter Rede ( Video recording, December 17, 2020)
---
Prof. Dr. Astrid Böger: Jenseits von Gut und Böse. Über die ambivalenten Kräfte der Comic-Superheldinnen (Video recording, December 10, 2020)
---
Dr. Ivo Raband: Fliegen, Schweben, Stürzen: Schwerkräfte in der Kunst der Frühen Neuzeit (Video recording, November 19, 2020)