Equal Opportunity
Excellent science needs diversity and originality. Therefore, we have entered into an interdisciplinary cooperation with the DFG Maimonides Centre for Advaced Studies and the Research Training Group Interkonfessionalität in der Frühen Neuzeit – in the Faculty of Humanities of the University of Hamburg – in order to strengthen the scientific network and the equality-related offer and know-how through joint equal opportunity measures on faculty level.
Within the framework of the gender equality strategy, aspects of gender equality and diversity are at the forefront, including support for measures to reconcile family and career. Accordingly, we actively promote research and working conditions that enable female and male scientists to fully exploit their scientific potential.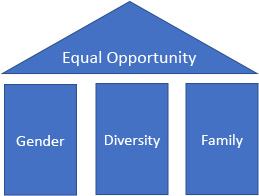 The University of Hamburg sees itself as a modern, cosmopolitan university in which equality policy goals are firmly anchored. The Equal Opportunity Unit of the University of Hamburg unites the three pillars of gender equality (gender), diversity and compatibility (family) under the umbrella of equality. We support the university in measures to promote equal opportunities and justice for women and men, the establishment of diversity strategies, and activities to reconcile studies or professional duties and family.
---
The contact person for all scientists of the three projects funded by the Deutsche Forschungsgemeinschaft (DFG) is our equal opportunities coordinator Verena Frenssen.
Her task is to develop and provide regular needs-based offers on equal opportunities and to provide a newsletter that bundles the university's own offers and those of the HRA.
She also supports the scientists with questions on the following topics, among others:
coaching sessions to promote scientific careers,
support in finding suitable kindergartens, schools and child care and
organization of emergency child care.
In 2021, a »Gender Awareness Training and Diversity Workshop« was held. There will be another workshop on this topic in 2022.
For our female scientists, we held an event on »Networking for Women« in 2021. Likewise, we gave everyone the opportunity to exchange ideas on the topic of »Self- and Time Management« with a female speaker in a one-day workshop.
Furthermore, in 2022 we will focus on the family and offer an event on »Juggling Career AND Family«.
To promote equal opportunities and family-friendly working and research conditions in the three DFG research projects, we offer various, concrete measures with the following goals:
to increase the number of female scientists at the project management level,
to support the young female scientists working in the research network in pursuing their scientific careers and
to design a family-friendly "science" workplace.
---
Contact:
Verena Frenssen can be reached personally Monday to Thursday between 9:00 a.m. and 2:00 p.m. by email at verena.frenssen"AT"uni-hamburg.de or by phone at +49 40 42838 9579.