CONFERENCE
»PERCEIVING FORCES«
Conception: Frank Fehrenbach, Dominik Hünniger, Laura Isengard, Gerd Micheluzzi, Cornelia Zumbusch
Date: 9 – 11 June 2020
Venue: Warburg-Haus, Heilwigstraße 116, 20249 Hamburg
No registration required. As of May 1, 2022, all access regulations and the requirement to wear face masks will no longer apply to events in Hamburg. For self-protection, the UHH hygiene plan still recommends wearing an FFP2 mask in closed rooms.

The lecture will additionally be made available as a live stream. To participate in the stream, prior registration is required: https://www.conferences.uni-hamburg.de/event/253/

---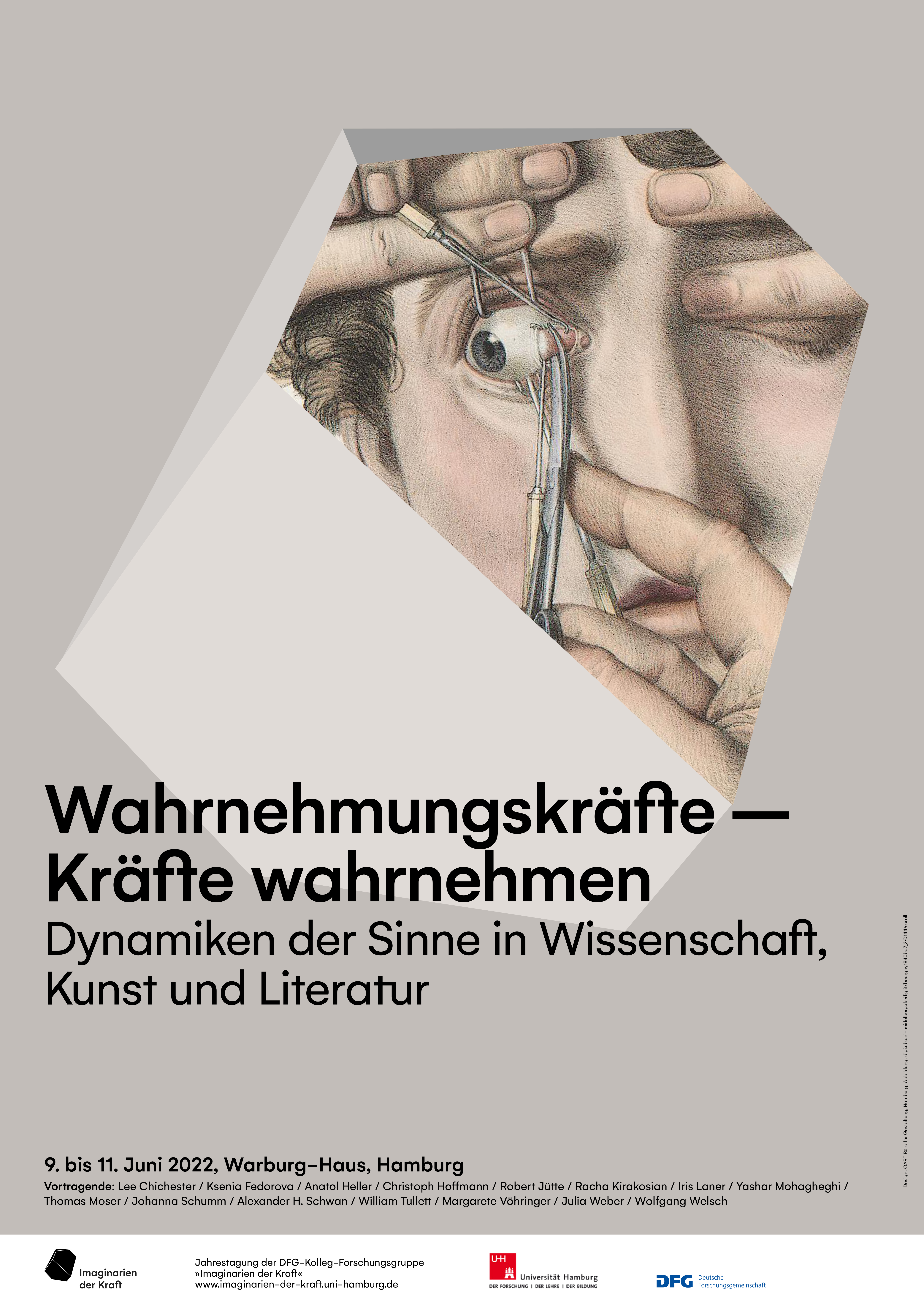 Description
Since the philosophy of ancient Greece, perception (aisthesis) has been fundamentally understood as a force (dynamis). Thinking about how the perceptive faculty functions opens onto tensions between the capability of truth and the susceptibility to deception; between passive impression and active imagination. Moreover, the problematic relationship of hidden cause to perceptible effect, and of latency to manifestation, is characteristic for reflections on force in general.
In which way do philosophy, natural sciences and arts deal with processes and possibilities of perception? When is sensory perception treated as a mere object of acting forces, and when as an active or activating force itself? To what extent does perception conceptualized in this way correspond to reality? And how does sensory forces relate to the problematic perception of forces in the first place?
Programme
Programme (updated 09.06.2022)
Venue: Warburg-Haus, Heilwigstraße 116, 20249 Hamburg
Thursday, 9 June 2022
| | |
| --- | --- |
| 03:30 pm | Welcome: Frank Fehrenbach, Cornelia Zumbusch |
| 04:00 pm | Christoph Hoffmann (Luzern): »Fische, Bienen, Farben« |
| 04:45 pm | Wolfgang Welsch (Berlin): »Grenzphänomene der Wahrnehmung: Intensitätsinadäquanz – Sensoriumsmangel – Fernwahrnehmung – Ästhetikskepsis« |
| 05:30 pm | Coffee break |
| 06:00 pm | Robert Jütte (Stuttgart): »Judentum und die Sinne. Aisthesis und jüdischer Ritus von der Bibel bis heute« |
Friday, 10 June 2022
9:30 am

William Tullett (Cambridge): »Camera Inodorata: Thresholds, Power, and the Separation of Senses«

Unfortunately, William Tullett's paper has to be cancelled at short notice.

10:15 am

Margarete Vöhringer (Göttingen): »Sehkraft oder Optik? Zur Verwissenschaftlichung der Wahrnehmung mit dem Augenspiegel«

Unfortunately, Margarete Vöhringer's paper has to be cancelled at short notice.

11:00 am
Coffee break
11:30 am

Racha Kirakosian (Freiburg i.Br.): »"Daz inner ouge der sêle." Vision bei Meister Eckhart»

12:15 pm

Johanna Schumm (München): »Pfeile des Geistes. Über den barocken Scharfsinn als Wahrnehmungs- und Schöpfungskraft»

01:00 pm
Lunch break
02:30 pm

Yashar Mohagheghi (Aachen): »Die Kraft der Ode. Paragone der Sinne in der Odenpoetik des 18. Jahrhunderts (Herder, Klopstock, Hölderlin)«

03:15 pm

Julia Weber (Berlin): »"Die Würkung des Einen ins Andre": Herders dynamische Lebenskräfte«

04:00 pm
Coffee break
04:30 pm

Thomas Moser (Wien): »Gips streicheln, in Marmor geschlagen. Tast- und Krafterfahrungen in August Rodins Arbeitsprozess«

05:15 pm

Iris Laner (Salzburg): »Einsam rezipieren oder gemeinsam betrachten? Über die Grenzen subjektiver Wahrnehmung von Bildern aus (post-)phänomenologischer Perspektive«
Saturday, 11 June 2022
| | |
| --- | --- |
| 9:30 am | Ksenia Fedorova (Leiden): »New Anthropology and the 'homunculus' of science in artistic interpretation of physiological research« |
| 10:15 am | Alexander H. Schwan (Berlin): »Epiphanie und Ergebung: Inszenierungen göttlicher Kraft in der Tanzmoderne« |
| 11:00 am | Coffee break |
| 11:30 am | Anatol Heller (Zürich): »Zerstreuungskräfte bei Karl Philipp Moritz« |
| 12:15 pm | Lee Chichester (Bochum): »Kraftfelder und physische Gestalten: Kraftwirkungen in (organischen) Gestaltungsprozessen« |
| 01:00 pm | Departure |